Many times when a police officer pulls over to the side of the road it's for a traffic stop, but K9 Deputy Jeremie Nix of the Marion County Sheriff's Office had another reason for stopping. On his way home from a shift, a frantic motorist flagged him down and told him her 3-month-old baby was unresponsive. Nix tried several life-saving measures before rushing baby Kingston to a medical center. Doctors say if it wasn't for him, the child wouldn't have survived.
Florida K-9 officer Jeremie Nix saved the life of a three-month-old baby named Kingston on Wednesday, who was in medical crisis in a car in Ocala, a city an hour north of Orlando.
The motorist told Deputy Nix that her 3-month old baby boy named Kingston was completely unresponsive and that she needed help. Deputy Nix turned his patrol car around and pulled off the side of the road to assist with the medical emergency.
"The first words out of her mouth were, 'Don't let my baby die'," Deputy Nix recalled at a press conference.
After performing several life-saving measures on the child and not seeing any improvement, Deputy Nix decided to put the child in his own patrol car and rush him to Ocala Regional Medical Center. Deputy Nix delivered the child to medical personnel, who then began treating the child.
Thanks to Deputy Nix's actions, baby Kingston is expected to make a full recovery.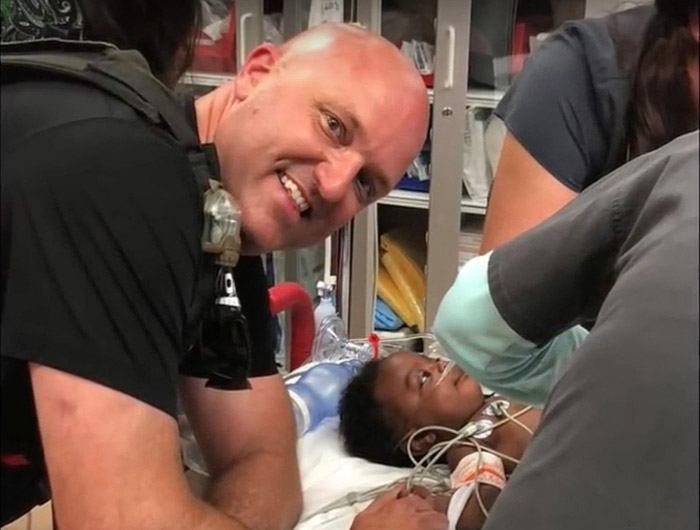 "We are so thrilled to tell you that Baby Kingston JUST left the hospital with his Mom and he is happy and healthy!! Thank you for all your prayers for Baby Kingston and his family!!" the MCSO wrote on their Facebook page.
Kingston's mother, Nechole Crowell, praised God and Deputy Nix for saving her child's life.
"Not dirty…….. let me just say that yesterday GOD showed me just how real he was. My son KING was barely breathing, & fighting for his life. My sister & I noticed an officer sitting at a red light & we got his attention. With his fast thinking, HE & GOD saved my son…. after his shift he and his beautiful wife came to stands just to see him again. His word to me was "Don't you worry, i will not leave until i help save your son!" "GOD had me in the right place because he knew you needed me… THANK YOU OFFICER JAY NIX FROM THE OCALA SHERIFFS OFFICE K-9 unit !! I just wanted the world to know how great this officer is, & how GREAT GOD is…….. not all officers are bad, he's one of many good guys ️️ KING & I WILL FOREVER APPRECIATE YOU." She included in her post.
Nix came back to check on King and see how he was doing at the end of his next shift, and the happy story continues here, too. The baby is recovering very well and has been released from the hospital. A story that too easily could have ended in tragedy instead has a family with their baby safe and healthy.
And for the rest of us, it's a reminder that for every negative interaction we hear about between the police and the public, there are these interactions that we might not hear about but maybe should. Connect with the law enforcement officers in your life, and ask them why they went into police work. Ask if they've had moments like this, where their presence was the difference between life and death, between a family grieving a child or other loved one and a life saved. Police officers don't just respond to crimes, they're first responders in medical emergencies, too.